7:52 AM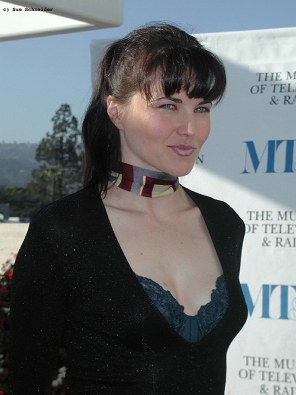 .... I..had but the strangest dream... its so fresh in my mind. I went to walmart...do a little shopping...and I came across to Lucy Lawless, she had regular clothes on...beautiful as ever, somehow...we talk, my dad talks to her and invites her over to dinner, mom was making beef stew, oddly enough.. Lucy agreed to come.. as we entered my kitchen, I asked her if she had to check her email, she said "yes", so I took her upstairs into my room...which is xena-packed...She went onto my computer and tried to get online..Of course, I signed on my XenaWP screen name, after she chcked her email... I explained that I regularly had more xena stuf than that because most of them broke..she pulled out a 20 dollar bill, and I refused to take it..she looked hurt...after a bit of talking...I agreed to take it..but only to buy a Xena thing. She laid back on my bed and kept looking around the room. I confessed to her that I couldnt watch the show after the last episode...it was too..painful, knwoing that the bard..and the warrior...were seperated, forever.... She nodded...and understood, giving me a knowing glance, she told me, that she had moved on from there, to play, what she always wanted, she never thought she'd be a hero someday.... Then explained to me..how simple my life was, she would love to come and stay in my room for a night...with her husband.... now..I found that really odd, but it made me think...she has millions..she lives in a manison...probably has servants...my life..being really simple..like her life before fame... mom walked into the room with three roses, handing them to Lucy, Lucy gave one to me...and my mother, then she reached over and tapped our roses with hers, and looked at me.... It was...amazing... Then she joked about how my room is... "Well, your bed is made..and...well..its made"..pointing out that my room was rather messy. I dont remember if I laughed...because I woke up in tears..and am still crying... This may be the biggest changing point in my life, that dream really taught me to appreciate what I have, thank you... Lucy....despite the fact Xena's over... you're still a hero...
10:26 am
I know some of you are probably thinking..."aw, barb..get it over with"...or ..."grow up already"... well... I think Im ready.
11:26 am
Naw...Im not ready... It's a little too difficult. I role play Xena... with the best Gabrielle role player I've ever met, we've had storylines..and boy..we've had storylines... its unforgettable... its hard to forget... well.. I dont want to forget, but its hard to move onto something new... I dont watch tv anymore, nothing worth watching, I have no inspiration to write..for Xena was my inspiration, this just..really sucks. I have fallen head over heels for this girl...but shes not even remotely intrested in me. That should be inspiration, despressing poems. Tch, Im not that gothic...but I'll give it a try...of course I didnt write this today... just a poem I found on how I feel.
And love is devestation
stripp'd to the core
it is blissful misery
too close to be so far
You're only there when I
close my eyes and dream
feel my soul is drained
storm clouds in my heart
love letters written
in the sands of time
Wash away in the Tide
leaving nothing behind
The sound of loneliness
Is all you can hear
never to have your love
is how cruel fate can be
People say as time goes by
that you'll learn to forget
But I know the truth to be a lie
And only a fool cannot see it
Dressed in blue silver dust
reached out to the open sky
then float around on a dream cloud
tears like sun-filled rainbows
The acrobat alone in the air
who you treat like a clown
If love is really the answer
then where is the answer at
As Innocent eyes turn colder
in the darkess of the world
exhaled into a ring of smoke
the ash blowing of oblivion